Posted by Edmundo Bordeu, Apr 15 2009, 05:29 PM in Features
Maybe you have played our web-based adventure game "The Malstrums Mansion". Here I will explain some of its history, why we decided to release it April 1st, and even show the original design document made in 1989! (spoilers warning)





Many years ago, the only computer Andrés, Carlos and I had was a Macintosh Plus. There we played Shadowgate, a classic adventure game which was later ported to the Nintendo Entertainment System (but I really think the original black and white version was much better). The Malstrums Mansion was the game we wanted to make after playing Shadowgate, but at the time we had no idea how to program and make a game. What we did have was a copy of Superpaint, so we made all the pixellated graphics for the game and stored them in 700kb disks, waiting for the time we would be able to create games.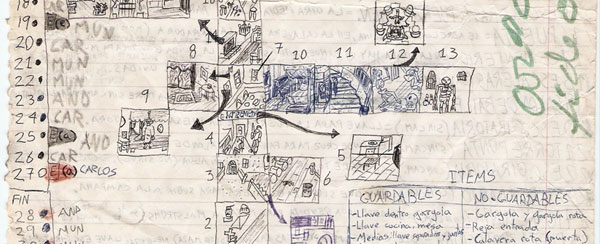 (click on the image to see the entire document)


Here you can see the entire two-page design document for the game! complete with awful teenager handwriting and spelling. I specially like how someone used the document to write with a green marker a big reminder to buy rice and noodles.

Fast forward to the year 2008: The Malstrums Mansion was never made and we are working on Zeno Clash. We were thinking about what cool content we could give to players who later finished Zeno Clash, like cool achievements or extra content of some sort. Carlos thought of Mansion; it would be a completely unexpected gift to get a whole retro adventure game after finishing the main game. So our team member Juan Briones, who had a lot of experience with Flash, started programming the game, and the idea was to later attach the game to Zeno Clash somehow.

We made many things to preserve our own original experience playing Shadowgate:
-We made Mansion run in a fake 1980s Macintosh operating system (we even recorded the original sounds a Mac plus does when reading a disk).
-Full screen but low resolution graphics.
-Respect the original design document, which was about a difficult adventure game where you can die. (The Shadowgate we played did not have a save option either!)
In retrospect Malstrums Mansion would benefit from having a save option, because we just don't have that much time and patience for some games nowdays. Still our game has much less ways to die than Shadowgate.





We originally thought of distributing this game as an .exe file with Zeno Clash (and maybe add some more playing time to the title), but this didn't feel right for some reason, we weren't sure of how could we tie the game to Zeno Clash or unlock it when Zeno Clash was completed... instead we decided to distribute Mansion for free on our page, it could be more useful as a giveaway viral-marketing kind of game, that would make some more people aware that a studio called "ACE Team " exists making a "Zeno Clash" game.

March 2009, we are nearing completion of Zeno Clash and April fools day is coming. We wanted to release our own bit of fake news. We were thinking several fake news that could be fun, but it still sounded cheap, at some point we figured Mansion would really work as a really elaborate Aprils Fool joke, it was almost ready to be released so it would be easy to hurry it to reach the date. To this date more than 32.000 people have played the game, and the number does grow steadily.
At April fools day (when we said we were only going to make retro adventure games from now on) many people believed it, because making an entire game as a fake news joke seemed to be just too elaborate.

Many adventure game lovers have really enjoyed The Malstrums Mansion (specially nostalgic ones), so I wonder if any other of the games we designed for the Macintosh Plus (1989) would be good today.
You may visit the Mansion forums Here.

Soon I will be posting about other games we have made, some which very few people know. If I have enough time the article should be up tomorrow.
Comments