Posted by Edmundo Bordeu, Nov 11 2010, 04:28 PM in Development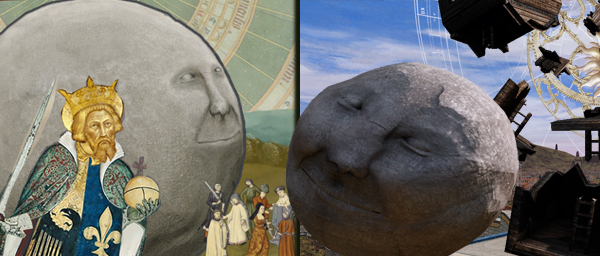 It has been a long time since our last informative blog post, but it is only because we have been so busy working on Rock of Ages!
In Rock of Ages as you progress through levels you also progress through different periods of art history, so this time I'll be writing a bit about the first steps in choosing the art references we used for the game.
Before any aesthetic decisions had been made, we only had a high concept: "two enemy castles under siege resolve the stalemate using giant boulders". That immediately made us think of a medieval setting, but we knew there were many games about castle sieges with the same setting, and we didn't want to make a game that would look the same.
Carlos then had the great idea of using Terry Gilliam's paper cut animation style, and it has been a good tool to be able to avoid realism and make things more gamey and silly (plus we are great fans of his work).
One of the difficulties of accomplishing the right style has been finding how much 2D vs. 3D we would be using in the game. Medieval art (Byzantine, Romanesque, etc.) doesn't really have any 3D perspective, and has rather flat lighting and colors. You can use the same shapes and color palette, but if built completely in 3D a lot of the charm of the style is lost. Another concern was not hurting gameplay, where the navigation through the environment with the boulder (which plays much like marble games or racing games) needs the exact opposite: good perception of depth and perspective.
Below I am showing a couple of experiments where we tried to find a technique that preserved the 2D feel for characters and environments but without losing the 3D perception of space.
The first attempt was a new way of using "sprites" or "billboards". Sprites are 2D images which never look like "flat paper" because they're always facing the camera (3D games as old as Wolfenstein used them). The problem with typical sprites is that you need to create a new drawing for every single view and every frame of animation of the characters. So my experiment was building a character from a collection of sprites: 6 drawings for the different views of a hand, 6 drawings for the different views of a head, and so on for the entire character (about 40 drawings per character). Later the character could be animated using a typical 3D skeletal animation so it could interact properly in a 3D space.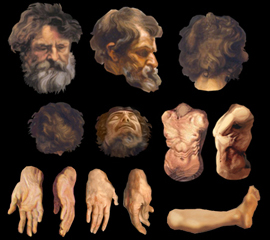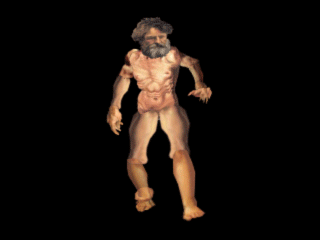 Sometimes it takes a creepy old man to know you are not going in the right direction.
The second experiment was using sprites for big volumes of static scenery. This time it was just using a very large number of sprites, each one representing a "point" of the structure.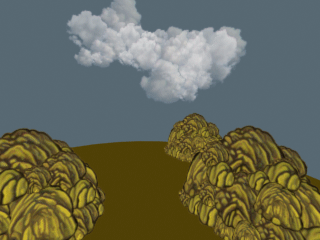 This is an early environmental test using only sprites.
There were problems with both of these techniques. I never got the transitions between directions of the character to be "glitch-free". And they look OK from a distance but not so much when you get too near. Also, they were still not "volumetric enough" to feel right when you hit them in-game.
Finally our convention was that anything that affects the physical movement of the boulder had to be 3D, and anything else could be 2D. Things away from the boulder's reach can be 2D (like the scenery far away), people and smaller things can be 2D (a soldier can't really affect the path of the giant rock!) and we can go crazy with the interface and HUD. We have used more minimalist approaches to interfaces before, but in Rock of Ages there will be plenty of things "happening" in the interface, with little comical scenes and characters doing stuff as you navigate.

On my next post I'll talk less about technical art decisions, and more about the different art periods used in the game (medieval is just one of them) including ancient Greek art, the Italian Renaissance, French Rococo and Romanticism.
And here's the latest trailer in case you just heard about this awesome title and want to know what it's looking like:
Comments