Great news for all indie game followers! Zeno Clash, the seminal enterprise of our Chilean indie developer ACE Team, has been recognized as one of the 100 Best PC Games of All Time by PC Gamer, who has made the list available in its February 2011 edition. Now, the entire ACE Team proudly sits alongside cult-classics like Grim Fandango and Monkey Island 2.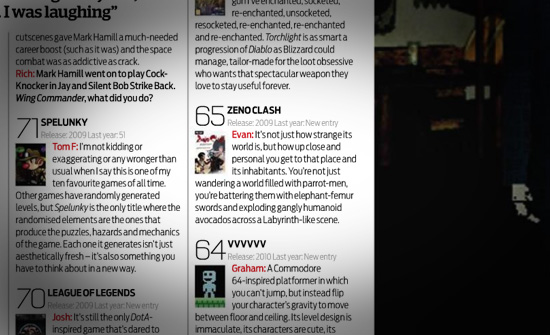 Page 62 of PC Gamer UK issue #223




The magazine staff put together an international panel of specialized gaming journalists and the selection process consisted on making individual lists of favorite games, then the entire group combined and reviewed the resulting catalog by defending the proposed entries on their merits for a place in the final roster.

Zeno Clash earned a well-deserved number 65 after going head to head with masterpieces such as Civilization IV, Doom, Starcraft, and other huge AAA blockbusters such as Left 4 Dead II and Bioshock.

It shouldn't come as a surprise to anyone that other innovative indie titles also made the list along Zeno Clash. Names like Braid, Spelunky, VVVVVV, Audiosurf and Minecraft amongst many others.

To get a closer look please check out the printed issue of PC Gamer February 2011.

by: deloctyte on Feb 17 2011, 11:13 AM
See? My sig was right! Grats and Kudos!