Posted by Andres Bordeu, Feb 23 2009, 05:09 PM in Awards
We're thrilled with the news that Zeno Clash has been awarded 'Editor's Choice: Best Upcoming Indie' at ModDB's 2008 awards. We're honored with the pick. A big congrats to the teams behind the other great games that were also nominated in this category. All the titles are fine examples of quality independent games.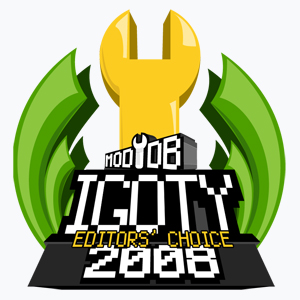 To learn all about the award, the nominees and the ModDB 2008 awards follow the link:

Editor's Choice: Best Upcoming Indie

A huge thanks from ACE Team to the ModDB editors and all our supporters!
Posted by Edmundo Bordeu, Feb 19 2009, 06:16 PM in Development
In Zeno Clash, players will travel through a variety of exotic locations. The world of Zenozoik is an unfriendly place, filled with odd formations, bizarre wildlife and crooked architecture. It's beautiful and disturbing at the same time.

At ACE Team we wanted to avoid repetitiveness. Before starting to build the levels we selected distinct color palettes and themes that differed to make sure the player was constantly visiting new locations to marvel at. Many games display beautiful environments, but the novelty of the art eventually wears off if you're constantly running through the same settings. We wanted to make sure this was not the case in Zeno Clash.

Ghat's journey will take him through several locations, each one with it's own dangers to overcome. Jump to the link to check out screens and info about the development process.


Read more...
Posted by David C, Feb 17 2009, 09:48 AM in Previews
Here is a compilation of previews from websites that have had hands-on of our Zeno Clash press demo. The demo featured 3 specific levels that displayed the melee combat system, fighting against heavy characters and a boss battle using the musket. Jump to the link to see non-english previews too.


Read more...